Dr. Panna Choudhury (January 11, 1947 - September 01, 2015), MD, FIAP, FIMSA, FRSTMH, FAMS was a paediatrician and public health expert based in India with over 4 decades of medical service. He was a Consultant Pediatrician at LNJP hospital associated Maulana Azad Medical College , New Delhi for over 35 years. He had been the National President of the Indian Academy of Pediatrics 2009 and served as the Editor-in-Chief of Indian Pediatrics 2002-2007. He had served on numerous important committees and task forces of IAP, including being Chairperson of its Nutrition Chapter, Immunization Committee, Newborn Resuscitation Project and many community oriented health programs. Dr. Choudhury was an Advisor/ Expert/ Investigator for the Government of India, GAVI, Emory University, and many other National and International organizations. He has over 100 publications in peer reviewed journals and has edited many books on Paediatrics. He was also an International Advisory Board member of the Journal of Paediatrics, USA. Dr. Choudhury co-founded the Child Health Foundation, and served as its Vice Chairman till his untimely death. He has many felicitations for his contributions including an Award of Merit for Excellence in Contribution towards the Medical Profession by the Indian Medical Association, presented by the Hon. Health Minister of India, in presence of the WHO India Chief.
Dr. Panna Choudhury, died of a massive cardiac arrest on September 01, 2015, after a brief but intense battle with cancer, complicated by dengue fever. He was 68.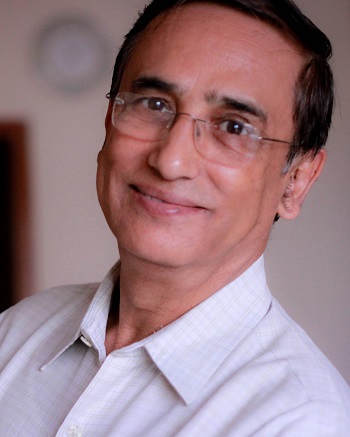 Early Life:
Dr Panna Choudhury was born on January 11, 1947 in Nagaon, Assam to Dr. Birendra Kumar and Bibha Choudhury. Due to non-availability of birth records during those turbulent times, his official birth date is April 1, 1947. His father was lovingly called 'Chuni Da' (meaning Ruby) so it was natural that he was named Panna (Emerald). He was their only child. At the age of five he lost his mother and survived cholera himself. He was a brilliant student with a photographic memory. One of his earliest memories was of his father scolding him thinking he had not memorized his homework essays and Panna would then recite them down to the last comma and full stop, to his father's astonishment. His favorite childhood essay was 'The Horse'. He had a sweet tooth as a child, and loved Rasogullas. In later years, however, he gave up sweets altogether. He also loved chillies and had many a story of eating 'bhutjolakias' - the hottest chilli in the world, as a youngster. He had youthful good looks and a beautiful smile. He looked so much younger than his age that at the time of fixing his eldest daughter's wedding in 2002, he actually received a formal marriage proposal for himself!
After his schooling in Nagaon, in March 1962 he matriculated from University of Guwahati and shifted to St. Anthony's, Shillong, for his intermediate studies. He left home at 14 years of age for his studies and subsequently only went back for visits. He joined Assam Medical College, Dibrugarh in 1964, from where he also completed his MBBS in 1968 and DCH in 1971. He joined Maulana Azad Medical College in 1972 and completed his MD in Pediatrics in 1974 and Senior Residency in 1977. He had many fond memories of this time and remained in touch with his friends throughout his life. He then joined Safdarjung Hospital as a Pool officer in September 1977. Coincidently, the girl who he and his parents had chosen for him in June 1977 was also working in the same Pediatric Department. He courted her on his own scooter while they made arrangements for their wedding. Panna and Monisha were married on 6 March 1978. Dr Monisha subsequently shifted to Pathology and is currently Director Professor of Pathology in Lady Hardinge Medical College.

Career:
In 1979, Panna joined JIPMER, Pondicherry in a teaching post, and also managed their newsletter. Later he joined the Government of the National Capital Territory of Delhi as a Specialist in 1981. As a part of technical co-operation program of Government of India and British Government he travelled to Liverpool and did a course on Instruction in Maternal, Perinatal and Child Healthcare at Liverpool School of Tropical Medicine from April to July 1984. In 1986 he joined back his alma mater Lok Nayak Hospital &Maulana Azad Medical College, Delhi as Consultant Pediatrician. He remained with them till he retired on 31 March 2009 with over 30 years of Clinical/Teaching Experience.
Both during his tenure and post his retirement, he had been part of many associations and projects. He has been an active part of the Indian Academy of Pediatrics (IAP) since the '80s. In 1993 he became Fellow, Indian Academy of Pediatrics. He was an accomplished academician and after serving the Editorial Board of the Journal of Indian Pediatrics in various capacities for two decades, he assumed charge as Editor-in-Chief (2002-2007). During his tenure, the Journal scaled greater heights including getting indexed in the Science Citation Index Expanded, which paved the way for obtaining its first Impact Factor. He was elected Secretary and President of IAP (Delhi) and subsequently became the National President of IAP in 2009. He retired the same year, and for many this would have been the pinnacle of their achievements. But for Dr. Choudhury, this was just a new launchpad into the stratosphere of Public Health.
Post retirement, he was much in demand with national and international agencies for his skills, his experience and his sincere work ethics and considered a Key Opinion Leader by all in this field. He never said no to any request, irrespective of how busy he might be. He continued to guide IAP in various positions including as Chairman of IAP Committee on Immunization (2008-2011), Chairperson of the National Newborn Resuscitation Program (NRP) under IAP (since 2009, aimed at improving child survival), and IAP National President's Representative. Other noteworthy assignments included National Convener of IAP 'Under 5 Child Survival Intervention Program'(2007), Chairperson and Secretary of the Nutrition Sub chapter of IAP, Editor of the bulletin of the Nutrition Sub chapter 'Nutrisearch', and Convener of IAP Task Force for framing Guidelines for Management of Diarrhoea and IAP Task Force for Hospital Management of Severely Malnourished Children.
Dr. Panna Choudhury was a founder member and Vice Chairman of the Child Health Foundation - an organization established for promotion of child survival, child health and child development. He served as an Advisor/Expert/ Investigator for many organizations including WHO, UNICEF, INCLEN, Asia Pacific Pediatric Association, Emory University, Bill and Melinda Gates Foundation and the Government of India. He was a certified Master Trainer for 'Helping Babies Breathe' course by the American Academy of Pediatrics. He was a Visiting Faculty at John Hopkins School of Public Health, Children's Hospital of Michigan and St. Mary's Hospital, London. He worked with the Indian Council of Medical Research on AYUSH and 'Reducing maternal and neonatal mortality' Project. He advocated child health on different media and tirelessly pursued the cause of Mother and Child Health through Government, National and International bodies. He was elected International Advisory Board Member of Journal of Pediatrics, for a period from 2012 to 2017 and travelled extensively in the US in this role. He also travelled across Asia, Africa and Europe advocating his various causes. He had recently been appointed as Special Advisor to Board Member, GAVI - The Vaccine Alliance from 2015 to 2017. He has written over a hundred papers, published in peer-reviewed indexed journals, authored books that are considered staple for medical students, written or edited or reviewed countless more articles, chapters and books. Some of his notable works are 'Principles of Pediatric and Neonatal Emergencies', 'Nutrition in Children: Developing Country Concerns', 'Frontiers in Pediatrics', Pediatric Drug Companion, IAP Textbook of Pediatrics and Guidebook of IAP Committee on Immunization. His last professional action, just two days before his death, was to review an article written for an IAP Guidebook for Parents. His felicitations and trophies fill entire rooms including an Award of Merit for Excellence in Contribution towards the Medical Profession by the Indian Medical Association, presented by the Health Minister of India in presence of the WHO India Chief. He had been conferred with fellowships of IAP, National Academy of Medical Sciences and Royal College of Tropical Medicine and Child Health. He was also Life Member of Hemato-Oncology, Adolescent, CANCL and the National Neonatology Forum, IMA.
Despite being such a legend in his profession, he was a man of very simple tastes and amazed people with his sincerity and gentleness. The first thing that struck anyone meeting him was his humility. He was an astute clinician and academician, and was able to bring people together despite their differences. He had a knack for settling disputes always keeping the national interest of survival and betterment of children in the forefront. He had expansive reach and influence, yet he was equally diligent and detail oriented. His combination of depth with breadth of experience, along with his clinical skills and success as a public health expert working through institutional complexities, made him revered in personal and professional circles.

Personal Life:
Along with his dedication to professional causes, he was also a family man. He would take timeout for his family, celebrating festivals, helping his daughters with schoolwork and life counsel, investing for the future of his family and being available for friends and family for every occasion, whether it was a party or a middle of the night emergency. He would give unconditional medical consultation to every parent/child in need, anyone who would reach out to him, without prejudice or expectation. He loved home improvement and technology, and made it a point to keep himself updated in these areas. He also loved to travel, and he would make it a point to take his family on vacation every summer. In later life, as his children started their own families, he would spend time helping them set up their establishments, counsel them through the birth of his grandchildren, take his wife travelling with him and unfailingly bring back gifts for all from all his travels. He forged deep relationships with both his son-in-laws who were like buddies to him. He took pride in his three grandchildren and built a beautiful house in Noida for his family. He was also very good at simple and wholesome cooking and was the default cook for comfort foods when anyone in his family was sick. Despite his untimely demise, he planned his life so well that he ensured that his family would endure and thrive, even in his absence.
Dr. Panna Choudhury, beloved husband, father, grandfather, uncle, friend, philosopher, guide, doctor and medical expert, passed away on September 01, 2015 after a brief and intense battle with a rare and aggressive cancer complicated by dengue fever. He was 68 years old. He is survived by his wife Dr. Monisha Choudhury, daughters Pallavi Choudhury Tripathi and Surabhi Choudhury Sethia, son-in laws Rupesh Tripathi and Deepak Sethia, grandchildren Saisha, Ashwin and Aria, and many relatives and friends who were fortunate to have known him. He will be deeply missed.
IAP Book of Condolence for Late Dr Panna Choudhury - Click here to read